Life can change in an instant.
On June 19, Cletus Schnieders, III of Cincinnati, Ohio, was eating dinner when he suddenly began to choke on a piece of steak. His wife, Carrie, was tending to their three children in another room when she realized Clete wasn't responding to her. "When I walked over to him, I realized he was choking. Then he collapsed," Carrie explained.
Carrie called 911 and began chest compressions, but sadly, Clete was declared brain dead at the hospital just two days later. Still reeling from the sudden loss of her husband, Carrie was faced with the devastating decision of whether to honor Clete's wishes to donate his organs. By proceeding with the donation, he would touch the lives of 50 people who were in dire need of new organs, and Carrie knew that helping others is exactly what her husband would want.
Staff members at Mercy West Hospital arranged a very special and incredibly moving ceremony for Clete's family and friends to say goodbye. As they prepared to wheel his body into the operating room, over 150 hospital staff, doctors, nurses, family, and friends lined the hallway to say goodbye and thank him for his donation.
"My initial reaction was speechless. I feel like everything paused for a second as I turned the corner and saw all of the people who came out to support us," Carrie explained. "Letting him go at the end of the hallway was the most difficult thing I've ever had to do. I still have friends and family reach out to me and tell me that being at the honor walk was one of the most amazing yet heartbreaking moments of their life."
Carried snapped a photo of this "Honor Walk" and shared it on Facebook, where the image went viral. Soon, Carrie was receiving words of love, support, and thanks from all over the world.
"The first several nights I was getting messages from all over the world, even Australia," Carrie said. "One man, in particular, reached out to me from Oregon, he wanted to thank me and Clete. Because of someone like Clete, he received a liver transplant and was able to watch his grandchildren grow up. That story really hit home since Clete also donated his liver."
Carrie said hearing these stories from organ recipients was the only thing that kept her going in the early days after losing her husband.
Meanwhile, John Mock, a father of four who suffered from a genetic autoimmune disease, had registered as a recipient for a new liver just six hours before Clete's family said goodbye at the Honor Walk. Out of 156 potential recipients for Clete's liver, John was the only match. That day, he received a life-changing phone call as doctors asked him if he could be at the hospital to receive his new liver in an hour.
A few days after Clete lost his life, John get a new lease on his own. As he was wheeled into surgery, he asked his daughter Becca to reach out to Clete's family. "I wanted to thank this family for saving my life — I would be dead without them — and offer my condolences," John said.
Carrie was also interested in meeting the people who had benefited from her husband's donation. About a month after he passed away, Carrie gathered Clete's parents, stepparents, and children at LifeCenter in Cincinnati to meet John and his family members. United in grief and gratitude, the two families have vowed to stay close in the future.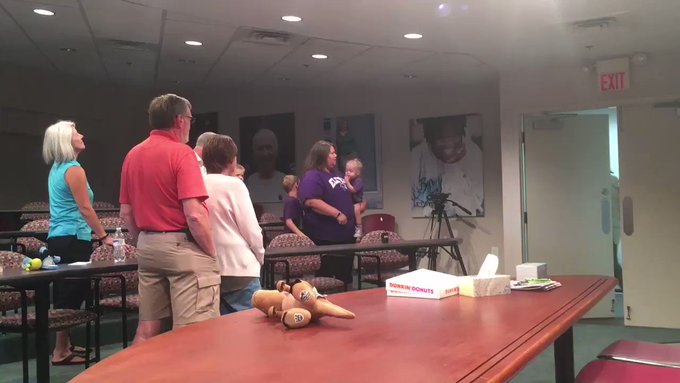 "Meeting John has helped tremendously with my grief," said Carrie. John couldn't agree more, stating "after the first two minutes, it felt like we had known each other forever, just like a real family."